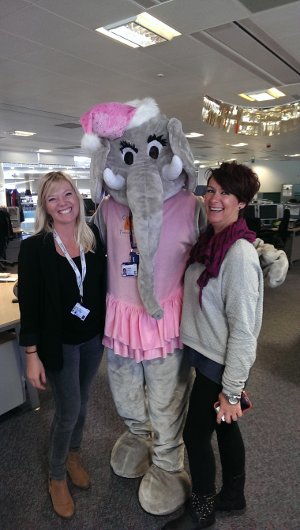 Openreach apprentice engineer Mike Hirst is making a "trunk" call for your help to save orphaned baby elephants.
Dressed in an elephant costume, he's collecting cash in buckets to raise £1,500 for the David Sheldrick Wildlife Trust, which supports an elephant nursery within Nairobi National Park in Kenya.
Mike has already successfully raised more than £4,000 to take part in Challenge Africa to help build a school – and as a side project is fundraising for baby elephants after hearing about their plight.
Mike said: "I must raise £1,500 – the cost to take in a new elephant – and in return the reserve has offered an encounter with the elephants for me and a group of schoolchildren from the Challenge Africa project, and they will be able to adopt one.
"I've devoted all my spare time to fundraising and pushed myself way out of my comfort zone to stand in front of classes and talk about what I'm doing – and collected at supermarkets dressed as an elephant in a pink dress. I also took part in the Openreach Christmas single recording – in full costume – to raise awareness.
"£500 cares for an orphan for one month – including feed, milk, blankets shelter and 24-hour keeper care. Poaching in Kenya has escalated to levels not seen since the 1970s and there has been a huge influx of orphans to the nursery."
Mike's passion for his work – and his fundraising – followed the death of his mum, Karen. "Losing my mum triggered something in me to make her proud and become the success she always believed I could be," he said.
Support Mike's elephant fundraising at:
www.justgiving.com/mikehirst
Donate to his Challenge Africa trip at:
http://mydonate.bt.com/fundraisers/michaelhirst1